Welcome to the the Institute of Creative Problem Solving for Gifted and Talented Students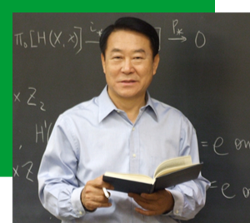 "Our students are instilled with a lifelong love of mathematics. Many of our graduates - over 10% - go on to win prestigious awards, including national and international math, science, and engineering contests."
Jong P. Lee, Ph.D., Founder and Director
United States Presidential Awardee for Excellence
in Math, Science, and Engineering Mentoring
The National Museum of Mathematics is an incredible facility that displays the many fascinating examples of mathematics.

ALL ICPS CLASSES THIS YEAR WERE HELD AT SUNY COLLEGE AT OLD WESTBURY EXCEPT DURING THE MONTH OF JANUARY WHEN THE COLLEGE WAS CLOSED DUE TO THE PANDEMIC. WE EXPECT THAT ALL CLASSES WILL BE IN-PERSON STARTING IN SEPTEMBER 2022.
The entrance exam for classes beginning September 2022 was administered on April 9, 2022. We had 535 students from grades 4 - 9 participate in taking the exam. Letters indicating acceptance will be sent by the second week of June. We will also notify those students who did not get accepted this time and hope that they will apply again next year.
Calendars for ICPS, the Robotics class, and the Research program for the 2022-2023 school year are now available by clicking on the Calendar button above.

Remember that if you participated in any grade in the ICPS program, you are no longer able to participate a second time.
If you received a Certificate of Completion for ICPS you may apply to either the Robotics Engineering class or the Research/Technology class as long as you are entering the appropriate grade. To read about these classes go to http://instituteofmerit.com/.
For detailed information concerning the activities of the Robotics program and to view slides and videos of some of the projects go to MERIT Robotics Class.
Applications for our Robotics Engineering class for 2022-2023 became available on March 26, 2022 at 12:01am. Students who completed one year of the ICPS program and entering grade 8 or 9 in September 2022 were invited to apply. This year, the Robotics Engineering class was fully registered after the first few hours that registration became available. Students are accepted on a first come first served basis.
Applications for our Research and Technology class for 2022-2023 became available on March 26, 2022 at 12:01am. Students who have completed one year of the ICPS class and entering grade 10 or 11 were invited to apply. There are still a few spaces available in this class. Please note that registration for the Research & Technology program will close on Friday, May 6, 2022 at 11:30pm.
The Institute of Creative Problem Solving for Gifted and Talented Students' mission is to enhance the problem solving skills of exceptionally talented students using advanced mathematics and creative thinking.
The Institute strengthens our nation's development of young leaders and role models in mathematics, science and technology to allow them to contribute greatly to society.
The Institute is tuition free, providing equal access to all qualified students from Long Island and promoting underrepresented populations in the mathematics, science and engineering fields.