Welcome to the the Institute of Creative Problem Solving for Gifted and Talented Students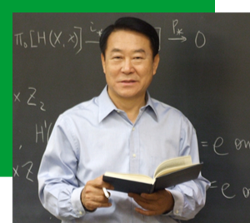 "Our students are instilled with a lifelong love of mathematics. Many of our graduates - over 10% - go on to win prestigious awards, including national and international math, science, and engineering contests."
Jong P. Lee, Ph.D., Founder and Director
United States Presidential Awardee for Excellence
in Math, Science, and Engineering Mentoring
The National Museum of Mathematics is an incredible facility that displays the many fascinating examples of mathematics.

I hope that you have all had a wonderful holiday season and that the new year will provide you with good health, happiness and success.
The snow is supposed to start late morning, so classes will be held as usual. We are asking all the parents to stay on or close to campus in case conditions change and we decide to end class early. We need some parents to help with packaging envelopes that we will be sending to schools to invite students to participate in next years program.
I hope all the students are enjoying their classroom challenges and that you are sharing your new found knowledge with your parents.
Follow and friend us at https://www.facebook.com/groups/icpsalum/.
Read about the success of one our recent graduates.

The Institute of Creative Problem Solving for Gifted and Talented Students' mission is to enhance the problem solving skills of exceptionally talented students using advanced mathematics and creative thinking.
The Institute strengthens our nation's development of young leaders and role models in mathematics, science and technology to allow them to contribute greatly to society.
The Institute is tuition free, providing equal access to all qualified students from Long Island and promoting under represented populations in the mathematics, science and engineering fields.