Welcome to the the Institute of Creative Problem Solving for Gifted and Talented Students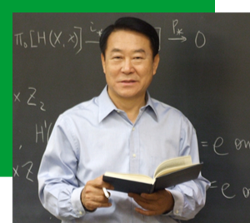 "Our students are instilled with a lifelong love of mathematics. Many of our graduates - over 10% - go on to win prestigious awards, including national and international math, science, and engineering contests."
Jong P. Lee, Ph.D., Founder and Director
United States Presidential Awardee for Excellence
in Math, Science, and Engineering Mentoring
The National Museum of Mathematics is an incredible facility that displays the many fascinating examples of mathematics.

The ICPS 2020-2021 school year entrance exam has been postponed. The scheduled date is Saturday, May 30, 2020. Please continue to check back here for further updates.
Dear Institute of Creative Problem Solving Applicant,
The health and safety of our students is our top priority. With the growing concerns around coronavirus, we have rescheduled the April 4th entrance exam for The Institute of Creative Problem Solving for Gifted and Talented Students (ICPS) program.
As this situation rapidly evolves, we know that there is an atmosphere of uncertainty. Although it is impossible to predict when our lives will return to their normal routines, we rescheduled the entrance exam to allow families to plan for this event without additional disruption to their lives.
The entrance exam is now scheduled for Saturday May 30, 2020.
Thank you for your understanding in this matter. It is our sincere hope that your children will be available to take the exam on May 30, 2020. Please understand that we truly care about the well-being of everyone involved and that our top priority is the health and safety of all concerned.
We will mail the exam entrance tickets two weeks prior to the new date. Please disregard the original date that is on the exam ticket. The time and place of the exam remains the same. Should you have any questions or concerns, please feel free to reach out.
Information for ICPS 2019-2020 graduates: Certificates for 2019-20 will be mailed to all the students in the next few weeks. Information and applications for the Robotics class and the Research program will be emailed along with information concerning the Brookhaven National Laboratory program (BNL).
The Institute of Creative Problem Solving for Gifted and Talented Students' mission is to enhance the problem solving skills of exceptionally talented students using advanced mathematics and creative thinking.
The Institute strengthens our nation's development of young leaders and role models in mathematics, science and technology to allow them to contribute greatly to society.
The Institute is tuition free, providing equal access to all qualified students from Long Island and promoting underrepresented populations in the mathematics, science and engineering fields.