Welcome to the the Institute of Creative Problem Solving for Gifted and Talented Students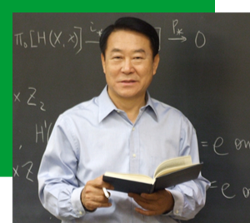 "Our students are instilled with a lifelong love of mathematics. Many of our graduates - over 10% - go on to win prestigious awards, including national and international math, science, and engineering contests."
Jong P. Lee, Ph.D., Founder and Director
United States Presidential Awardee for Excellence
in Math, Science, and Engineering Mentoring
The National Museum of Mathematics is an incredible facility that displays the many fascinating examples of mathematics.

The ICPS 2020-2021 school year entrance exam was administered on Saturday, May 30, 2020. The exams have been graded and the three classes have been finalized. Each applicant should have received an email indicating that either they were accepted into the program or that they were not accepted. Those who were accepted need to complete and return the ACCEPTANCE FORM and the CODE OF CONDUCT FORM by August 10, 2020 to complete the process. The students who were not accepted this year should consider reapplying next year. Information and applications for next year will become available by the middle of January 2021. If you did not receive an email indicating the results, please contact Art Kalish at kalisha@oldwestbury.edu and indicate your child's name and grade as of September 2020.
We do NOT send out grades on the exam but only indicate whether or not the student has been accepted into the program. Factors other than the exam were used to determine each class.
Please understand that we truly care about the well-being of everyone involved and that our top priority is the health and safety of all concerned. Stay well and enjoy the family time together.
Information for ICPS 2019-2020 graduates: Certificates for 2019-20 were mailed to all the students.
The Robotics class for 2020-2021 has been completely filled. There are still a few spaces remaining in the Research program.
The Institute of Creative Problem Solving for Gifted and Talented Students' mission is to enhance the problem solving skills of exceptionally talented students using advanced mathematics and creative thinking.
The Institute strengthens our nation's development of young leaders and role models in mathematics, science and technology to allow them to contribute greatly to society.
The Institute is tuition free, providing equal access to all qualified students from Long Island and promoting underrepresented populations in the mathematics, science and engineering fields.